Dakota123
Member



| | |
| --- | --- |
| Joined: | 03-20-2009 |
| Location: | Colorado USA |
| Posts: | 183 |
| Status: | Offline |
Hi,

As I've described elsewhere, I'm the second owner of 10628. The original owner (OO) bought her new, sight unseen in 1973 based on preview reviews in magazines. She lived her life in San Francisco, Great Britain for a time, and then San Diego. I acquired her about 1 1/2 years ago as the OO realized that was time for her to go to a new home.

Initially I set about making her street-worthy again after basically a decade of sitting in a garage, unused. To this point the brakes have had a complete rebuild including rear pistons and shoes, new Type 16p calipers, braided flex lines, TR6 M/C and 10"booster. Rear bushings were replaced as were the front control arm bushings, one lower ball joint and the steering shaft (total front end rebuild will wait for when I pull the engine). Front anti-roll bar was added and new alluminum fuel tank to replace the leaking original. Carbs were selectively rebuilt and plug wires were replaced.

She runs, handles and stops really well and is a daily driver, even if a bit tatty with more than her fair share of dings and dents. No rust whatsoever, however.

After a major project for work that took far, far too long and caused far, far too much brain damage it's time to turn attention to the cosmetics. Once that is done, then back to mechanicals (2.2L and Supra 5-spd -- I have the crank, a 2nd gen block, Supra 5-spd and CC kit).

Somehow every panel on the left side has been dented -- looks like maybe a sideswipe incident. The goal is not to make her show-quality, but a very nice daily driver. Economics will definitely play a part of course, as will how stock to keep it vs. how much to customize. In general, I plan to minimize changes to the point where she can be easily put back to box-stock if that ever makes the most sense.

One area where I will probably stray is paint color. No one in my family likes the original yellow. My preference is a different yellow, such as maybe Porsche Speed Yellow.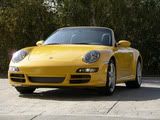 That would be closer to original, at least, and would be true to the fun character of the car. My family doesn't like Speed Yellow any better though, so I may go with a dark blue as in this AC Ace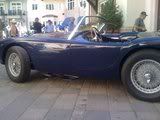 or maybe a burgundy as on this Aston Martin. (The Ace and Aston pictures are from cars that participated in the 2010 Colorado Grand, BTW, that wrapped up this past weekend in Vail, CO.)
Not as much fun to me, but this is after all a family project and everyone needs to be (generally!) happy. Plenty of work before getting to that point! Anyway, here is the current status:





Eventually it will be a bare-metal respray but in the interest of keeping it driveable to the extent possible I'm going about it basically one panel at a time.

More updates in the future...

Mike


Last edited on 09-21-2010 12:55 am by Dakota123