I promised myself that I would get the suspension done before swapping in a new powerplant. I have the 13B rotary ready to go; I am saving that fun part for last. Gotta get the ugly dirty bits done first!

The stock J-H suspension has no provision for camber adjustment and that just won't do. The brake upgrades are pretty limited as well and J-H's also have a weird bump steer curve. So, I figured hit all three areas at the same time and add ride height adjustability as well.

Brake upgrade: Miata front knuckles and calipers, this opens a whole new world of possibilities.

Camber adjustability: add plates to the upper control arms to allow moving the upper ball joint in/out to set the camber.

Here's the front suspension about halfway done.




And here it is completed and ready to install. I used QA1 coilovers with 550 inch pound springs, Super Pro poly bushings and retapped the stock Miata outer tie rod ends for 1/2 - 20, they now thread straight onto the J-H inner tie rods. That mod is what took care of the bump steer, it leveled out the tie rod in relation to the lower control arm and moved the tie rod pivot out close to the wheel centerline. I also can now get up to 3 degrees of negative camber.






The rear axle got clobbered during the driveshaft failure; the pinion gear shaft is bent. :-0 I have to admit I have never seen that before. There's no aftermarket to speak of for the J-H axle, so I decided to upgrade to a RX7 piece. This one is from an '83 GSL, it has a 3.909 ratio, limited slip and rear disc brakes. It's also 57 3/16" long and the J-H is 54".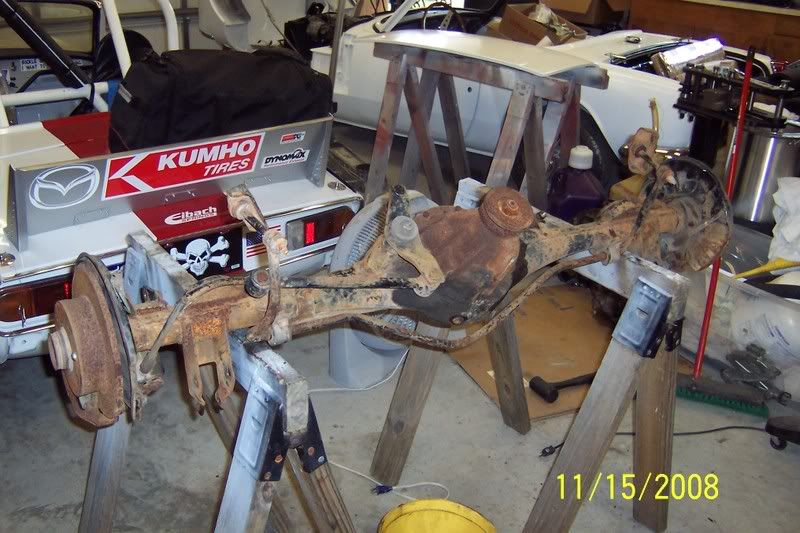 So I diassembled the rear axle, cut all of the non essential bracketry off and narrowed the housing. I still need to have the axles shortened and resplined and have the flanges drilled for the 4x100 mm Miata bolt pattern. Dutchman Motorsports has done this type stuff for me in the past. Here's the housing that's been narrowed:




I still have to build a jig to align everything before burning it all together.

Next project: reversing the RX7 clutch fork to allow use of the J-H 'pull' cable instead of the RX7 'push' slave cylinder. This means moving the release fork ball to the other side of the bellhousing. Should be fun!



Last edited on 11-23-2008 10:22 pm by Jensenman