Jensenman
Commence boredom as I show the latest. :-D

Instrument panel. Still some tidying up to do and I need to add aluminum sheet on both sides. Instruments are VDO Vision series, surprisingly affordable. The big red light is the charge indicator. Rotaries do NOT like overheating, if it throws the alternator belt (which also drives the water pump) I want to know RIGHT NOW.




Engine left. That's a JEG's universal double pass radiator and the oil cooler is from a 1990 RX7. The engine is an S5 13B, rated at ~180 HP stock. With the headers, free flow exhaust and cold air intake I figure probably around 195 or so, with an 8500 RPM redline. So far the engine runs great, the only real problem were a couple of small coolat leaks, then one of the oil cooler hoses sprang a leak and dumped about 1 1/2 quarts of oil in my garage before I could shut it off. Dammit.




Engine right. That's a poor man's Braille lightweight battery; a Wal Mart garden tractor battery, $25.00. :-D




8 gallon RCi fuel cell.




Fuel filter and fuel pump mounting. The exhaust is 3" OD. The small K&N filter is the fuel cell vent filter.




The car as it sits now: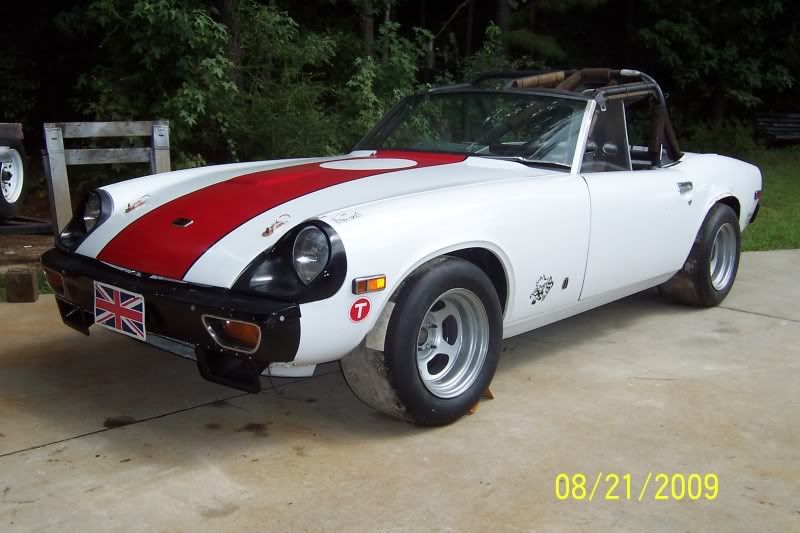 I haven't done anything to the body except remove decals and use a baseball bat to roll the rear fenders for clearance. The bodywork will happen sometime next year, in the meantime I have another 24 Hours of LeMons car to do and also a 2.5 Chrysler turbo to put in a Fiat X 1/9.

I still have to fix the hole in the tunnel from the driveshaft explosion, then the rest is minor fabrication. But then comes the real work; tuning and sorting. I'm sure to find more than one thing I did wrong. That's at least half the fun. Right? :-/